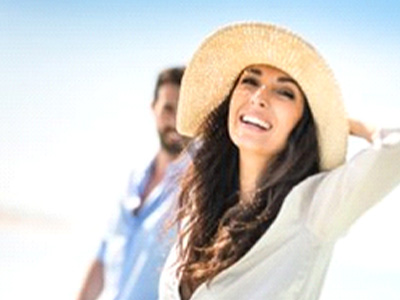 Your best friend just got engaged and you couldn't be happier – it's high time your pal received the commitment and lifelong support they deserve. You're thrilled to be a major part of the wedding party and you have so much to smile about. But when you grin, you become self-conscious about how yellow your teeth are. What can you do to improve the appearance of your teeth as quickly as possible? Sure, you could try over-the-counter products only to waste your time and money, but with professional teeth whitening in Encinitas from McElroy Smiles by Design, you'll actually achieve the sparkling smile you've been dreaming of. Learn more about how you can get a radiant Summer smile in this post.
How Can I Lighten My Smile?
As your premier cosmetic dentist in Encinitas, Dr. Greg McElroy and Dr. Constantine Reppas offer in-office and at-home options to lighten your teeth by several shades. We always start the process of teeth whitening with a professional cleaning to remove surface stains from the superficial layers of your teeth, and then we address deeper discoloration with customized trays.
How Do Customized Whitening Trays Increase The Effectiveness Of Whitening Treatments?
Since our trays are custom-fit to your smile, they benefit your teeth and improve your results more than any over-the-counter products can, for two reasons:
The customized fit of the trays keeps the hydrogen peroxide gel only in contact with your teeth, preventing irritation and injury to your gums, lips, and tongue.
Since the trays line up with your dentitions perfectly, they help seal in the gel and prevent it from mixing with saliva, which lowers the potency of the whitening gel and makes your results sub-par.
Since we use prescription strength lighteners that only dentists have access to, you'll never have to worry about the effectiveness or the safety of our products. And, our trays are easy to use – simply fill them with the peroxide bleaching gel and wear them for a short period of time each day and be amazed by the dramatic results!
Can I Afford Teeth Whitening Treatments?
Absolutely! We strive to make a sparkling white smile affordable for every budget. Since teeth whitening is the most popular cosmetic treatment, the price has dropped dramatically over the past few years. And, if you're worried about out-of-pocket expenses, don't be! We provide financing via CareCredit to make low, monthly payments available. And, with our membership program, you can have access to the cleanings you need – no insurance, no problem!
Now that you know how teeth whitening can benefit you, get ready for all those wedding, vacations, family photos, and Summer beachside trips, schedule your appointment with McElroy Smiles by Design to achieve the radiant smile you deserve – just in time for the warm weather!