Tooth Extractions – Encinitas, CA
Removing Teeth That Could Compromise Your Oral Health
Tooth extractions are never our first line of defense against oral health problems. We want you to be able to enjoy your natural pearly whites for your entire life whenever possible, but in some cases, we must remove a tooth to prevent additional oral health problems from developing. Fortunately, if we recommend a tooth extraction in Encinitas, we can replace the missing tooth with a dental implant or bridge to rebuild your smile to be complete and even healthier.
Why Choose McElroy Smiles by Design of Encinitas for Tooth Extractions?
Start-to-Finish Dental Implant Treatment
Same-Day Emergency Appointments
In-Network with Most PPO Insurances
When Are Tooth Extractions Necessary?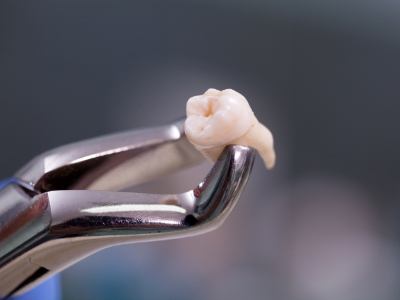 We typically recommend tooth extractions in the following cases:
A tooth is decayed or damaged beyond the point of being repaired.
Gum disease has deteriorated the foundation of your teeth, causing them to become loose.
Crowding is preventing you from achieving your ideal orthodontic results.
An accident has caused a tooth to crack.
A tooth is impacted below the gumline.