Replace Missing Teeth – Encinitas, CA
Renewing the Function & Feeling of Smiles
Tooth loss doesn't just impact your confidence. It also affects your day-to-day life in small and very important ways, like by making your favorite foods difficult to eat. Making compromises on a daily basis due to missing teeth, like cutting out certain snacks and avoiding saying words that highlight your lisp, can in turn have a drastic impact on your psychological wellbeing. Our team at McElroy Smiles by Design of Encinitas offers several leading-edge solutions for replacing missing teeth, including the gold standard - dental implants.
Why Choose McElroy Smiles by Design of Encinitas for Replacing Missing Teeth?
Start-to-Finish Dental Implant Treatment
IV Sedation & General Anesthesia Available
Additional Financing Available Through CareCredit
Dental Bridges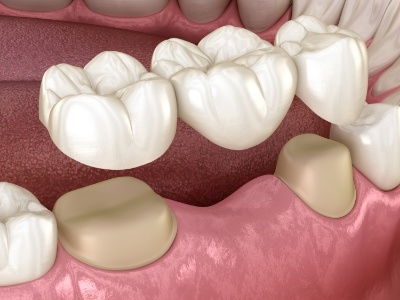 A dental bridge does exactly what you'd imagine it to — it bridges space in the arch left by one or more consecutive missing teeth. These restorations can be attached to dental implants for enhanced stability or anchored within your mouth using the two natural teeth on either side of the gap. Dental bridges are typically crafted from natural-looking, long-lasting dental materials like zirconia or ceramic, with the ability to last for over a decade with a good oral hygiene routine.
Dentures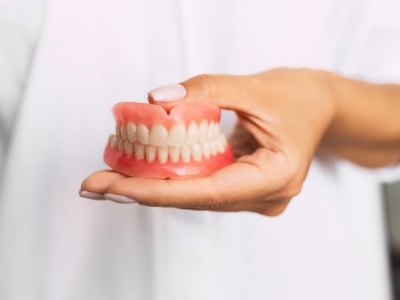 Dentures are able to replace many or all missing teeth across an arch. Over the last several decades, these restorations have improved in both function and appearance and are crafted from high-quality and aesthetically beautiful materials like gum-colored acrylic and ceramic. We highly recommend retaining dentures within the mouth using dental implants to eliminate any slipping or shifting that could occur with traditional dentures. This method of smile restoration can also last over four times as long as traditional dentures.
Dental Implants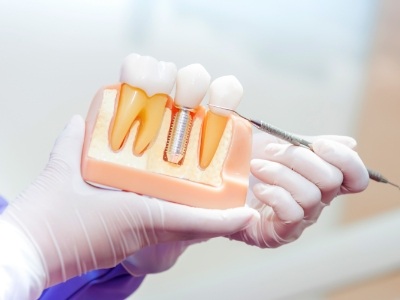 Dental implants provide a strong and stable foundation for any type of restoration to be attached to. With the ability to replace one, several, or all of your teeth, this treatment has quickly emerged as the gold standard solution to tooth loss, as it replaces the entire structure of teeth, including the roots. Because of the treatment's uniquely wholistic approach, dental implants are able to offer unmatched benefits, like prevention of jawbone deterioration and a lifespan of over 35 years with good dental hygiene.